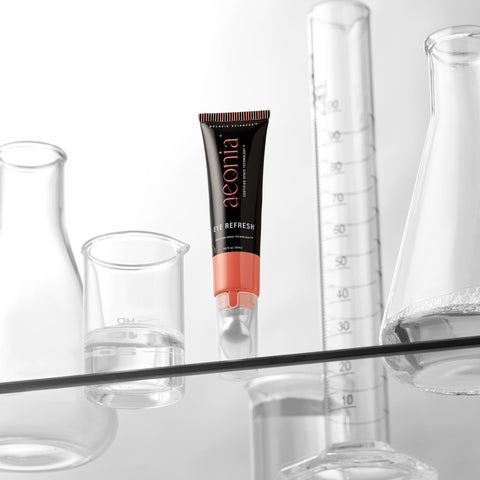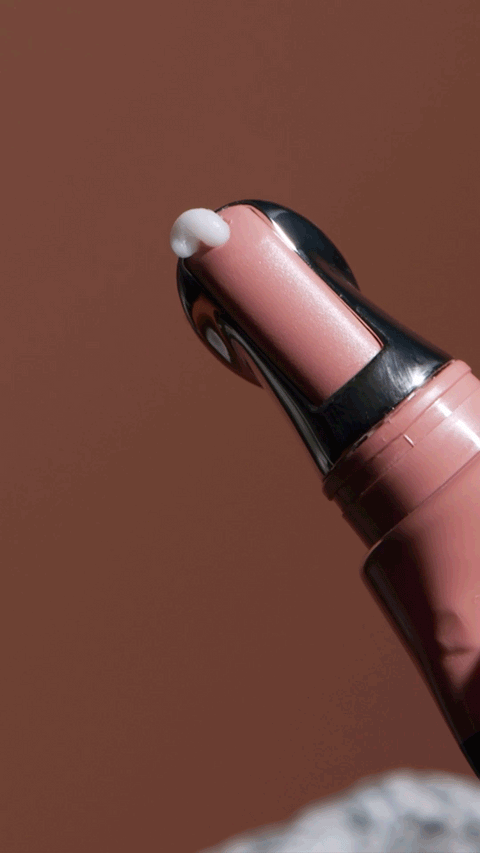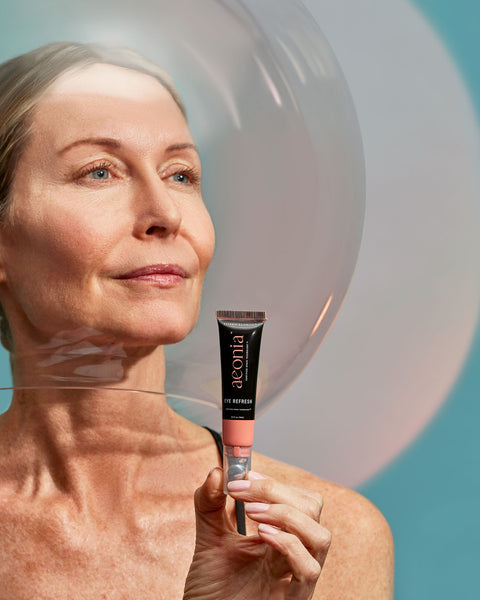 Aeonia Eye Refresh
Prepare to be starry-eyed. Developed using Space Certified Technology™️, our age-defying eye cream is formulated with Bacillus Lysate, an out-of-this-world ingredient. The Eye Refresh is clinically shown* to help restore moisture to your skin and regulate visible signs of aging such as fine lines, puffiness, dark circles, dullness and wrinkles. Try our newest skincare from the stars for smoother, softer, more youthful-looking skin in the eye area. 
BENEFITS
Aeonia Eye Refresh is proven to:
Smooth and hydrate skin around the eyes immediately after first use.
Reduce puffiness, under-eye bags, and dark spots.
Improve the appearance of fine lines and wrinkles around the eyes.
Increase skin's firmness and resilience around the eyes.
Bacillus Lysate is proven to:
Be an antioxidant that sequesters UVA-induced free radicals.
Stimulates the signaling protein Sirt1, linked to aging.
Increase the skin's production of hyaluronic acid.
Act as a microbiome-friendly prebiotic.
*Test results based on a 28-day clinical trial performed on 32 subjects.
Directions To Use
On a cleansed face, gently apply a pea-size amount of the eye cream daily. To apply, remove cap and squeeze tube to apply to the eye area. Rotate the tube and gently massage area with the metal applicator. Avoid direct contact with eyes.
Ingredients
Water (Aqua/Eau), Polysilicone-11, Caprylic/Capric Triglyceride, Polymethylsilsesquioxane, Dimethicone, Butyrospermum Parkii (Shea) Butter, Hydroxyethyl Acrylate/Sodium Acryloyldimethyl Taurate Copolymer, Cetearyl Olivate, Helianthus Annuus (Sunflower) Seed Oil, Sorbitan Olivate, Arachidyl Alcohol, Glycerin, Propanediol, Bacillus Lysate, Pyridoxine HCL, Niacin, Ferulic Acid, Resveratrol, Caffeine, Heptapeptide-7, Lecithin, Nannochloropsis Oculate (Algae) Extract, Laureth-12, Arachidyl Glucoside, Mannitol, Phenoxyethanol, Yeast Extract, Caprylyl Glycol, Hexylene Glycol, Pullulan, Cholesterol, Xanthan Gum, Ethylhexylglycerin, Carnosine, Tocopheryl Acetate, Sodium Benzoate, Potassium Sorbate, Citric Acid, Camellia Sinensis Leaf Extract, Ipomoea Batatas Root Extract, Lactobacillus Ferment Lysate, Behenyl Alcohol, Oryza Sativa (Rice) Hull Extract, Cetyl Alcohol, Saccharomyces Lysate, Hydroxyacetophenone, Polyglutamic Acid, Glucose, 1,2-Hexanediol.
FAQ
What makes Aeonia Eye Refresh unique?
Aeonia's proprietary ingredient, Bacillus Lysate, is the first biological cosmetic recognized as Space Certified Technology™ by the Space Foundation™. It is scientifically proven to restore the skin's moisture barrier, reduce free radicals, and stimulate Sirt1 activity. Clinical trial users experienced a reduction in wrinkles and fine lines and an improvement in dark spots and puffiness in the eye area.
How do you apply Aeonia Eye Refresh?
On a cleansed face, gently apply a pea-sized amount of the eye cream daily. Rotate the tube and gently massage the eye area with the chrome applicator. Avoid direct contact with eyes.
How do I incorporate Aeonia Eye Refresh into my skincare routine? 
After cleansing your face, administer 1 pre-primed pump of Aeonia Age Defying Serum. Follow with moisturizer then our Aeonia Eye Refresh. Don't forget to use sunscreen in the morning!
How long will a tube of Aeonia Eye Refresh last?
With daily use, one tube of Aeonia Eye Refresh can last up to 60 days, depending on the user. Unopened shelf life and period after opening are 12 months.
How long will it take to see results with Aeonia Eye Refresh?
With daily use, you should see visible improvements within 28 days. Clinical trial participants reported that Aeonia Eye Refresh made the skin around their eyes feel smoother and more hydrated 30 minutes after first use, healthier and more youthful after 14 days, and noted a significant reduction in wrinkles around the eyes after 28 days.
Is Aeonia Eye Refresh safe for pregnancy?
None of the ingredients in our Eye Refresh have been found to contain any contraindications for pregnancy. That said, we encourage you to consult your doctor before using any new cosmetic product.
Does Aeonia Eye Refresh use fragrances?
No, Delavie Sciences does not use fragrances in any of our products.
Does Delavie Sciences test their products for all skin types?
Yes, Delavie Sciences ensures testing and clinical trials cover all skin types. Clinical trial subjects agreed the product feels comfortable and gentle around the eyes. The Eye Refresh was dermatologist tested and approved
Great applicator and even better cream
At first I was skeptical about the functionality of the applicator but it is seriously AMAZING!!! The cooling effect is unreal. I dont know what the tip is made out of but it is killer. The product itself is also AMAZING!! My raccoon eyes were almost gone after 4 days of use. It makes my whole eye area smoother and softer. Def give it a try!!
Not sure yet
I used defying serum for couple of months. Not sure if the product works. Its feels nice on the skin, but so far I didn't see any wrinkle improvement. For this price I am not sure if its worth it.
Thank you for your feedback. We apologize you are unsatisfied with the product. Please send us an email so that we may help rectify the situation.
Do not buy
Not worth the price. Applicator is cool but the product itself didn't do anything for my skin except irritate it, leave a burning sensation, and large red marks.
Hi Madeline,
Thank you for your feedback.
We sincerely apologize for the inconvenience this may have caused. We have reached out to you via email to further rectify the situation.